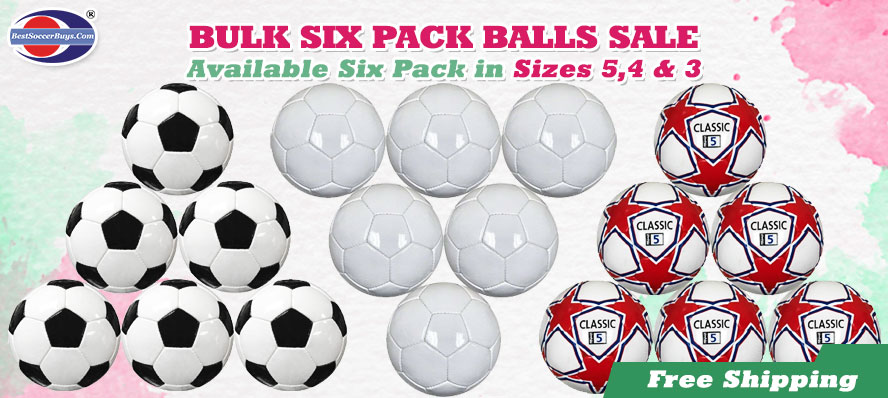 We are clearing out our stock of 2017 soccer balls, all balls in this section are sold in six packs for reduced clearance and discounted prices. Balls are hand stitched and made from different match level materials. Stock is limited so hurry and get yours soon.
Unleash Your Soccer Passion with Our Classic Collection
Experience the magic of the game like never before with our stunning Classic Collection Soccer Balls. From the iconic White Soccer Ball to the versatile Match Soccer Balls, we've got the perfect match for your love of the sport.
Elegance in Simplicity - The White Soccer Ball
Rediscover the timeless beauty of soccer with our All White Soccer Ball.
🌟 Pure Aesthetics: There's an elegance in simplicity, and our All White Soccer Ball captures that essence. Its classic design brings a touch of nostalgia to the game, reminding us of why we fell in love with soccer.
🌟 Exceptional Quality: Beyond its appearance, this White Soccer Ball boasts remarkable quality. Designed to meet official standards, it delivers superb performance, offering precision and control that every soccer enthusiast craves.
🌟 Versatile Play: Whether you're practicing solo or in an intense match, our White Soccer Ball is your perfect companion. It adapts to every situation, offering consistent flight and durability.
Your Soccer Journey, Your Way - Match Soccer Balls
Elevate your game with our hand-stitched Match Soccer Balls.
🏆 Craftsmanship: Our Match Soccer Balls are a work of art. Hand-stitched with precision, they showcase the dedication and skill of our craftsmen. Every seam is a testament to quality.
🏆 Official Size, Premium Feel: These soccer balls meet official size standards and offer a premium feel. They are built for professionals but also perfect for those looking to improve their game.
🏆 Bulk Benefits: Whether you're stocking up for your team or planning a soccer event, our Bulk Soccer Balls offer fantastic value without compromising quality. Get more for less and ensure that everyone can play.
Why Choose Our Classic Collection Soccer Balls?
Discover why our Classic Collection is the ultimate choice for soccer lovers.
🌟 Unmatched Variety: Our Classic Collection spans from the minimalist All White Plain White Soccer Ball to the high-performance Match Soccer Balls. You have the freedom to choose what suits your style.
🌟 Quality Assurance: Each of our soccer balls is built to last. We stand behind our craftsmanship and offer a guarantee of quality, ensuring your satisfaction.
🌟 Value and Style: You can have it all - value, style, and performance. Whether you're aiming for a precise shot, a spectacular goal, or a friendly game, our Classic Collection Soccer Balls elevate your experience.